Mahant Laxminarayan Das College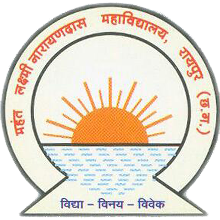 Mahant Laxminarayan Das College was established in the year 1997 in the memory of Mahant Laxminarayan Das, an eminent freedom fighter of Chhattisgarh in general and Raipur in particular. Encountering innumerable challenges and difficulties in the childhood he became Mahant of Jaitu Sao Math at Purani Basti in Raipur at an early age. It was the time when the freedom movement was entering a new era of mass struggle under the dynamic leadership of Mahatama Gandhi. As soon as the waves of this new struggle swept the Chhattisgarh region Mahant ji instantly threw himself in the vortex of the brewing storm and became the true soldier dedicating his life for the cause of mother land.

At the age of eighteen he became an active volunteer of the freedom struggle on the call given by Mahatma Gandhi. Pt. Ravi Shankar Shukla and Pt Sundarlal Sharma in Raipur inspired the youth and s ji followed their footsteps. His tremendous organizational capabilities came into limelight during the non corporation movement launched by Mahatma Gandhi in 1920. Pt Ravi Shankar Shukla as the president of the Raipur district congress asked Mahant ji and others to carry out the membership drive. Their effort bore fruit and a large number of people from different quarter of life joined and became the member of Indian National Congress making it a true mass based party contrary to the British claim of its being the representing the microscopic minority. This gave a tremendous boost to the freedom struggle in the Chhattisgarh region. Mahant Ji soon became a popular mass leader of Raipur next to Pt. Ravi Shankar Shukla.
As an active soldier of the freedom struggle during the civil Disobedience movement especially during the Dandi Satyagraha following the footsteps of Mahatma Gandhi under the leadership of Pt. Ravi Shankar Shukla Mahant Ji broke the slat law by making salt from Hydrogen Chloride and soda. On 2nd April 1930 war council was constituted to carry out the Satyagraha Movement. The council was successful in picketing the liquor shop. Nevertheless Mahant Ji and others were arrested and put behind the bars.

He was one of the eleven member of the delegation from the Chhattisgarh region to take part in the momentous Karachi session of the Indian National Congress in 1931 following the call of Mahatma Gandhi to boycott foreign clothes Mahant ji also participated in the boycott of the foreign clothes but soon he was arrested.

During the harijan tour of Mahatma Gandhi the Raipur District congress committee gave a donation of Rs 15000 which was collected through the effort of Mahant Ji and his team of dedicated workers. He was also instrumental in the collection of fund for the construction of the congress Bhawan the hotspot of the freedom struggle.

Mahant ji was also instrumental in initiating the prolonged immersion procession of idol of lord Ganesha following the ten day Ganpati festival in Raipur in 1935. In 1937 he became the president of the Raipur District council replacing Pt. Ravi Shankar Shukla who became the chief minister of the province. He was an active member of the congress during the Quit India Movement and was arrested immediately after outbreak of movement.

In the post Independence era Mahant ji keeping in view the difficulties faced by him during his childhood, he took recourse to philanthropy and social welfare. He played a prominent role in establishment or orphanage and National School in Raipur for poor and needy "The Harijan Hostel" in Raipur saw the light of the day due to his concerted effort. He managed all this with fund collected through his village tour. People contributed generously to his effort.

In the perspective the setting up of Mahant Laxminarayan Das college is an Endeavour to tribute to the Philanthropic effort of the legend to cherish his ideals and serve the society to fulfill his dream of upliftment of the downtrodden